What does MADGE stand for? "Mothers Are Demystifying Genetic Engineering" but also "Mothers Advocating Deliciously Good Eating" as food should be nourishing and delightful.
Jessica Harrison, Glenda Lindsay and Fran Murrell co-founded MADGE in 2007 because the Victorian Government's ban on growing GM canola was to expire in 2008.
We met through our concerns about the Genetic Modification of our food.
MADGE wrote a submission and also did a presentation to the Victorian Government GM Review Panel. We showed why growing GM canola would be detrimental to Victoria. We were most disappointed that, despite a revolt by back bench MP's and widespread public opposition, the moratorium on growing GM canola was allowed to lapse.
We have continued to present information about GM and wider food issues for the public via our website, digest, Facebook page and Twitter feed. We are now an Australia-wide network.
We are a group of self-funded volunteers who are motivated by the concern we feel about what is happening to our food. We receive no money from any government, company, grants or NGO. Madge incorporated on the 11th of November, 2009.
We are independent members of the public.
We know most people have no idea what GM is or that they are likely to be eating it every day. Almost all GM ingredients are unlabeled. Therefore, even if people want to avoid eating GM, it is
very hard to do. We think this is an unacceptable experiment on the general public.
If you would like to donate to us here is our bank account details. We do not have tax deductibility.
If you would like to donate to a group working on the GM issue since 1988, that does have tax deductibility, please donate to Gene Ethics.
For further information email: info@madge.org.au or call
Fran on 0401 407 944 or Jessica 0407 307 231
---
Gallery
Madge Bags feature at the the Hulbert Street Sustainability Fiesta – South Fremantle, WA.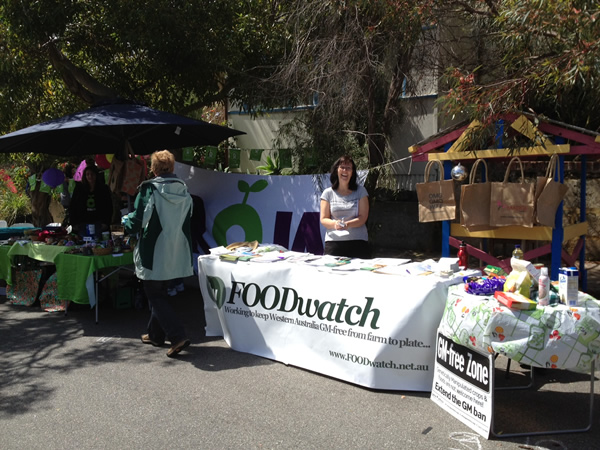 Occupy Monsanto Rally 600 St Kilda Rd, Melbourne, Monday September 17th, 2012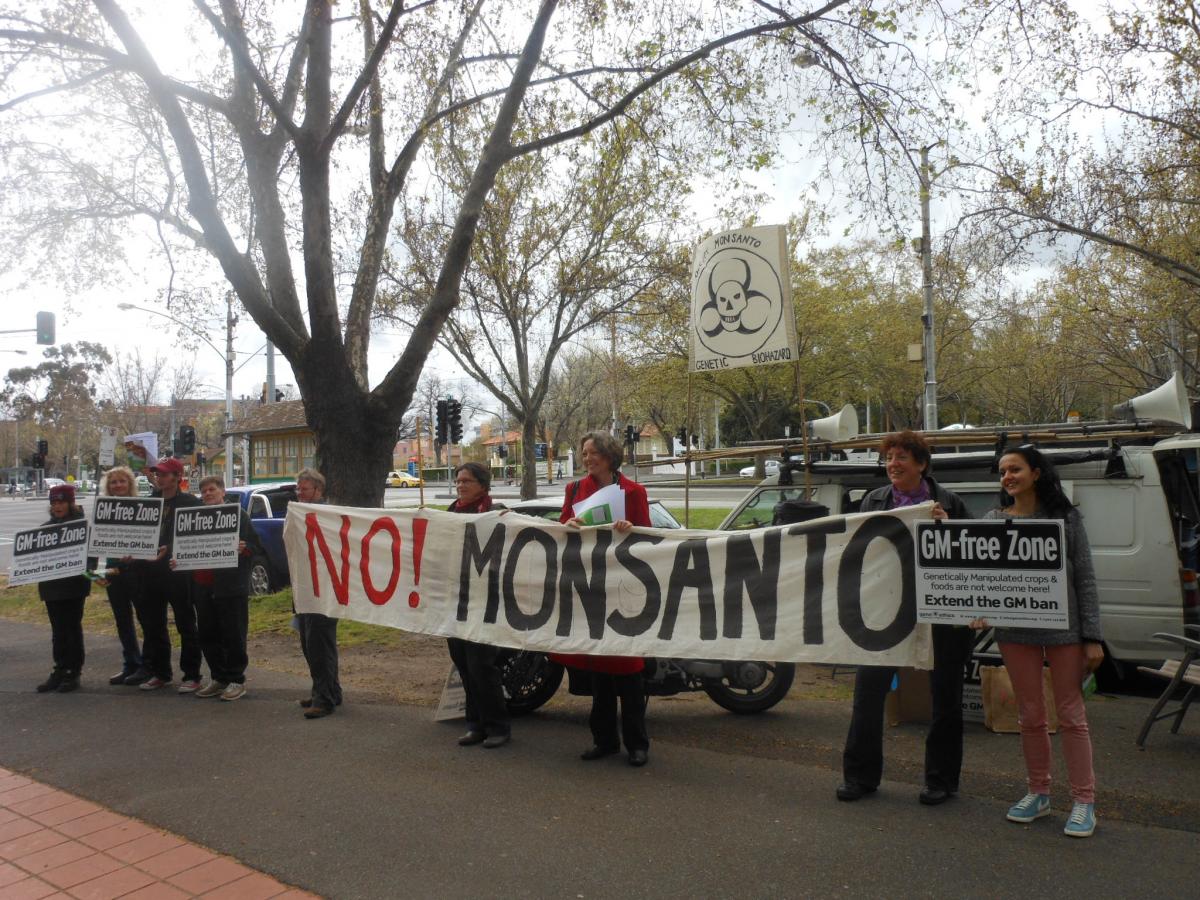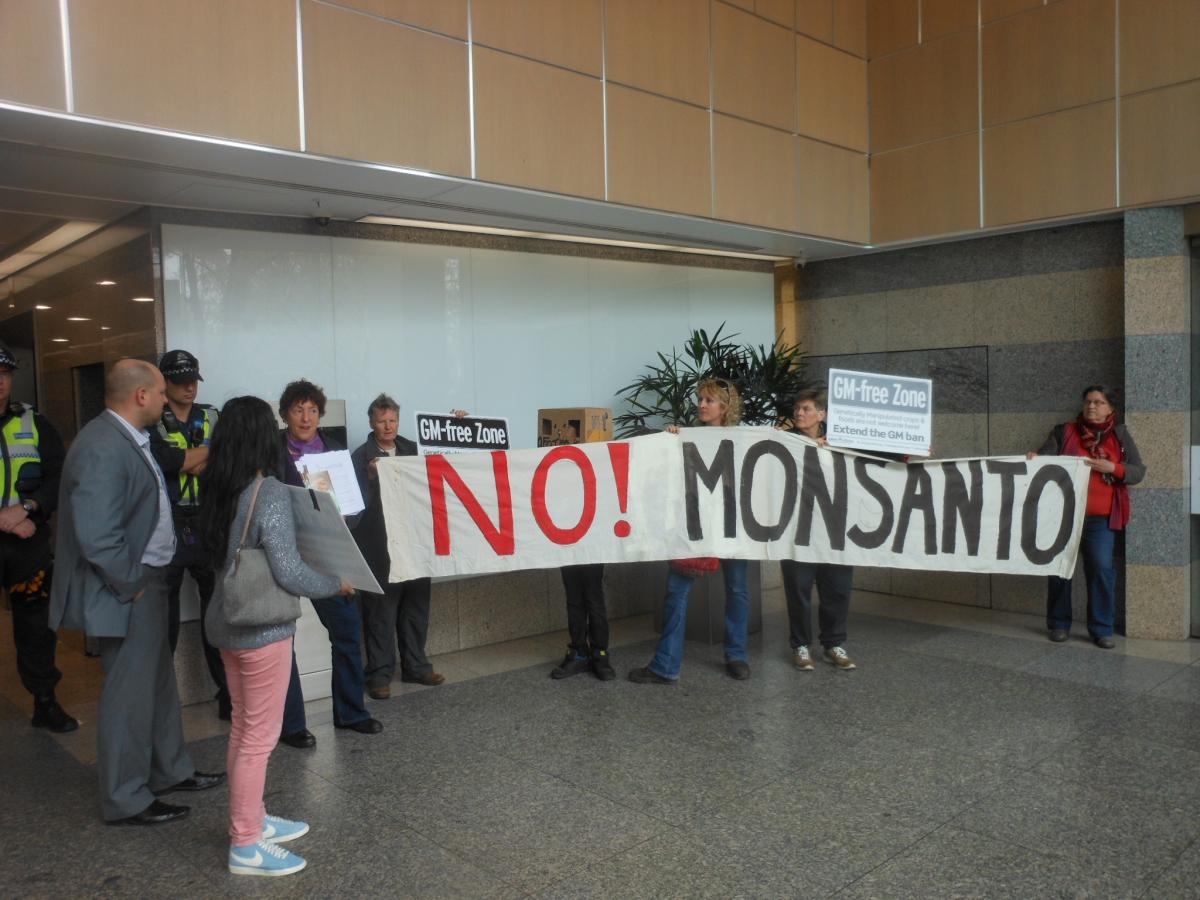 Madge rally to protest a 'business-as-usual' plan for Big Food, calling for a plan that better serves the interests and needs of ordinary Australians - Oct 2011
The 2010 MADGE Annual General Meeting - The Guinea Pigs Picnic!
---
The recent 'Speak out against Monsanto' event on the Eve of World Food Day...
Police officers at the protest check out the True Food Guide for GM free products.
Passersby were curious and many stopped to chat with us.
Lisa, Fran and Bob in the lobby of Monsanto's Australian HQ during the return of GM contamination on 15th October 2010.
---
Madge Mums protest in Coles Supermarket in Fitzroy, Melbourne. For the full story see the Greenpeace Campaign page, as well as The Age online article and the Sunday 7.30 report screening.
---
A toast the the official Launch of 'Mothers are Demystifying Genetic Engineering' rounded off a successful 'Demystification' session in Daylesford on Friday 29th August 2008
---
Photos of the stall at the Jack Johnson concert.
---
Forum at Horsham 19-February 2008. From left, Dr Judy Carman, Michiyo Koketsu, Percy Schmeiser and Jessica Harrison, Fran Murrell and Leanne Meyers from MADGE
---
I represented Madge at a Friends of the Earth Stand at the Stawell Agricultural Show on Saturday 27th October. We had a great time and were able to spread the word. (from left: Tania Walter and Ja-San Adamson)
---
Thank you to everyone who came to Parliament House on Wednesday 31st Oct, especially those who travelled long distances and who brought children. The pink banners and MADGE badges looked great. Tammy Lobato (ALP), Colleen Hartland (Greens), Jenny Mikakos (ALP), Martin Foley (ALP) and Peter Kavanagh (DLP) came out to meet us. We gave them letters, cards and petitions asking for an extension of the ban on GM canola. Over 12,000 people had signed which is a huge feat considering most Victorians do not even know the ban will expire in February 2008.
---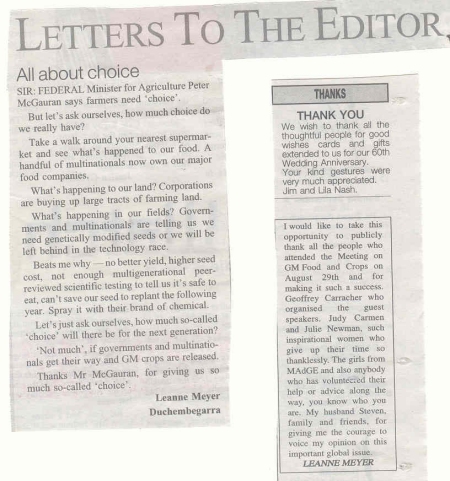 Letter to the Wimmera Mail Times from Leanne Meyer. Click on image to view pdf version.
---
Madge's stall at the organic expo - from left: Celia, Fran, Jessica and Leanne - thank you to all who lended help and support at the expo.
---
Madge's Jessica and Becky at a very successful Leongatha film night, Friday 24 August.
---
Article from "The Star", August 14 2007 featuring Madge members Becky Banks and Jessica Harrison
---
Leanne Meyer is a canola farmer and mother from Duchembegarra who did a solo protest after hearing about the MAdGE protest in Melbourne. She's also organising a meeting regarding GE in the Horsham district. [Photograph by Nicole Miller]